The Chervò Experience is a regular series dedicated to celebrating real-life style via fashion, sport and people.

This month: Q&A with Chervò Co-founder & Creative Director, Peter Erlacher


As the proverb reads - It is human nature always to find fresh cause for optimism.
That's what we're counting on after a year of doubt and uncertainty. We are ready for a fresh start and that's what Chervò's Spring/Summer '21 collection offers. We asked Co-Founder and Creative Director, Peter Erlacher, about the inspiration creating this fashion assortment for men and women, on and off the golf course.
"We design sportswear which is very versatile and flexible for whatever life hands us. Our clothes are created for sports and leisure which is par for the course in today's changing clothing trends."
-Chervò Creative Director, Peter Erlacher
Q: In the Spring/Summer '21 lookbook you mention the world's need for positivity. Most of the collections we are seeing this season were manufactured during last year's pandemic and lockdown. How did that affect your approach to designing this group in such an unprecedented time that none of us have ever faced before?
Peter Erlacher: We are always far ahead with the planning and design of our collections, so the decisions for the current collection in terms of style, fabric and colors were made in February 2020. At that phase we could have no idea what this pandemic would bring. However, we are always designing to be adaptable. We design sportswear which is very versatile and flexible for whatever life hands us. Our clothes are created for sports and leisure which is par for the course in today's changing clothing trends.
Q: The Mediterranean inspiration reminds us of a beautiful place most of us can't travel to quite yet. What is its influence for the Spring/Summer line ups?
PE: I hope we will all be able to travel again soon, including visiting the marvelous Mediterranean area which gave us endless inspiration for our collection, and brightness for our mood. I'm deeply grateful to have the privilege to live here and enjoy its positive energy.
Q: Did Chervò make a bid to dress the European Ryder Cup team that Italy will host in 2023?
PE: No, we did not. A well-known Italian fashion brand has already signed the agreement to dress the European Team. As a country, we are very excited to be hosting the Ryder Cup.
*Note: Chervò is, however, an official licensee and created a special clothing line for the competition. The "Ryder Cup Capsule Collection" (previously available in 2017 and 2018), will continue to be updated with adjustments to Ryder Cup branding until 2023. The collection is available in golf stores, multi-sport stores and clothing outlets, as well as Chervò web store and flagship stores.
Q: Chervò's belief in sustainability and green practices have been important long before they were popular. Can you tell us a little more about where the concern for the earth and environment stems from?
PE: My brother and I grew up in the Dolomites - a mountain range in northeastern Italy where life taught us to respect nature, keep the environment clean and use renewable resources like water, wood and energy in a respectful way. These were the spontaneous basic principles of our present and future actions.  
Q: Most people may not know that Chervò makes its own patterns and prints in-house, like what we see on the men's Asier polo and Selleto trouser in this collection. Tell us why that is important from a creative director's perspective.
PE: In-house made prints and patterns ensures no one else can get this kind of design, therefore we have absolute exclusivity worldwide. Selecting an omnibus print or pattern would mean losing originality and the Chervò character.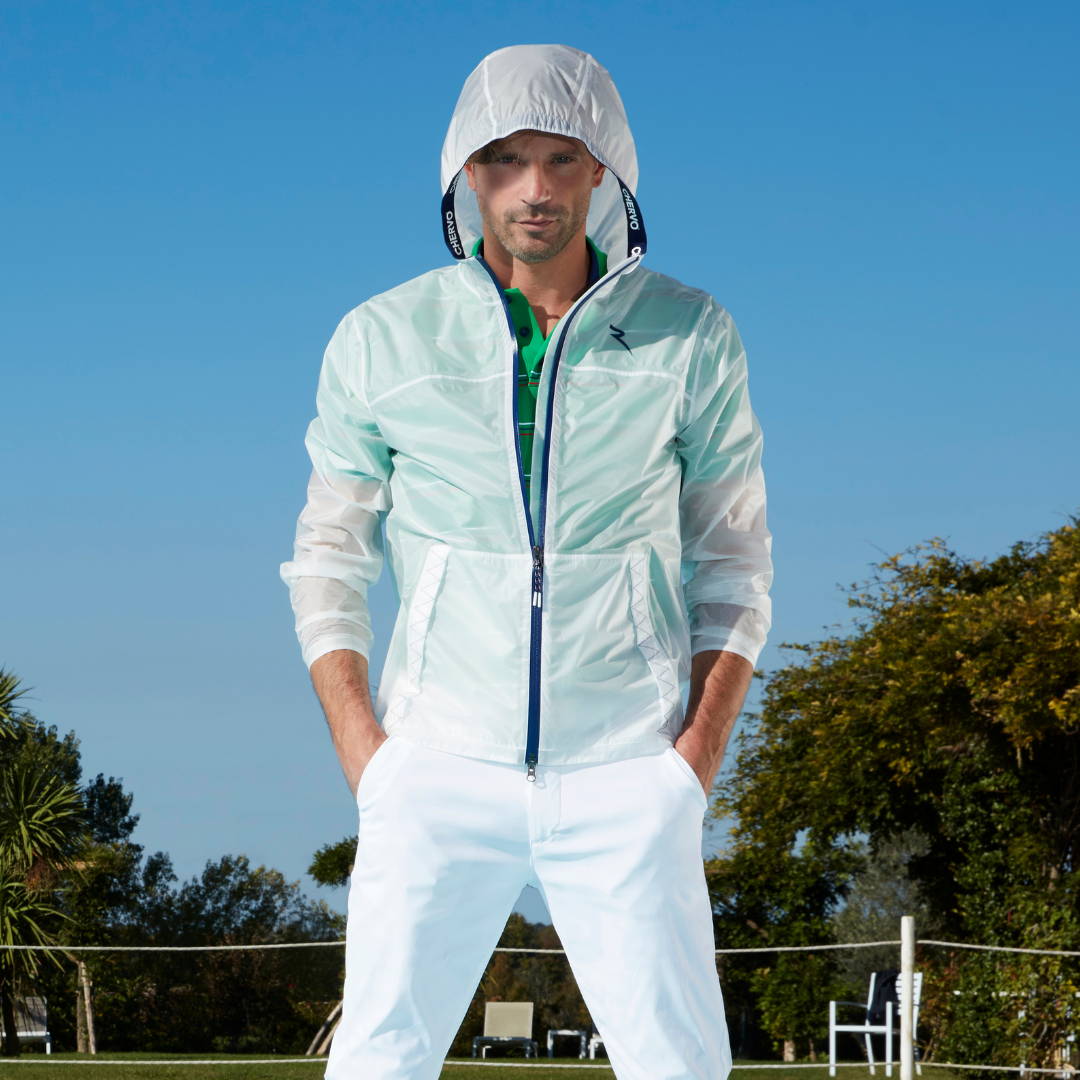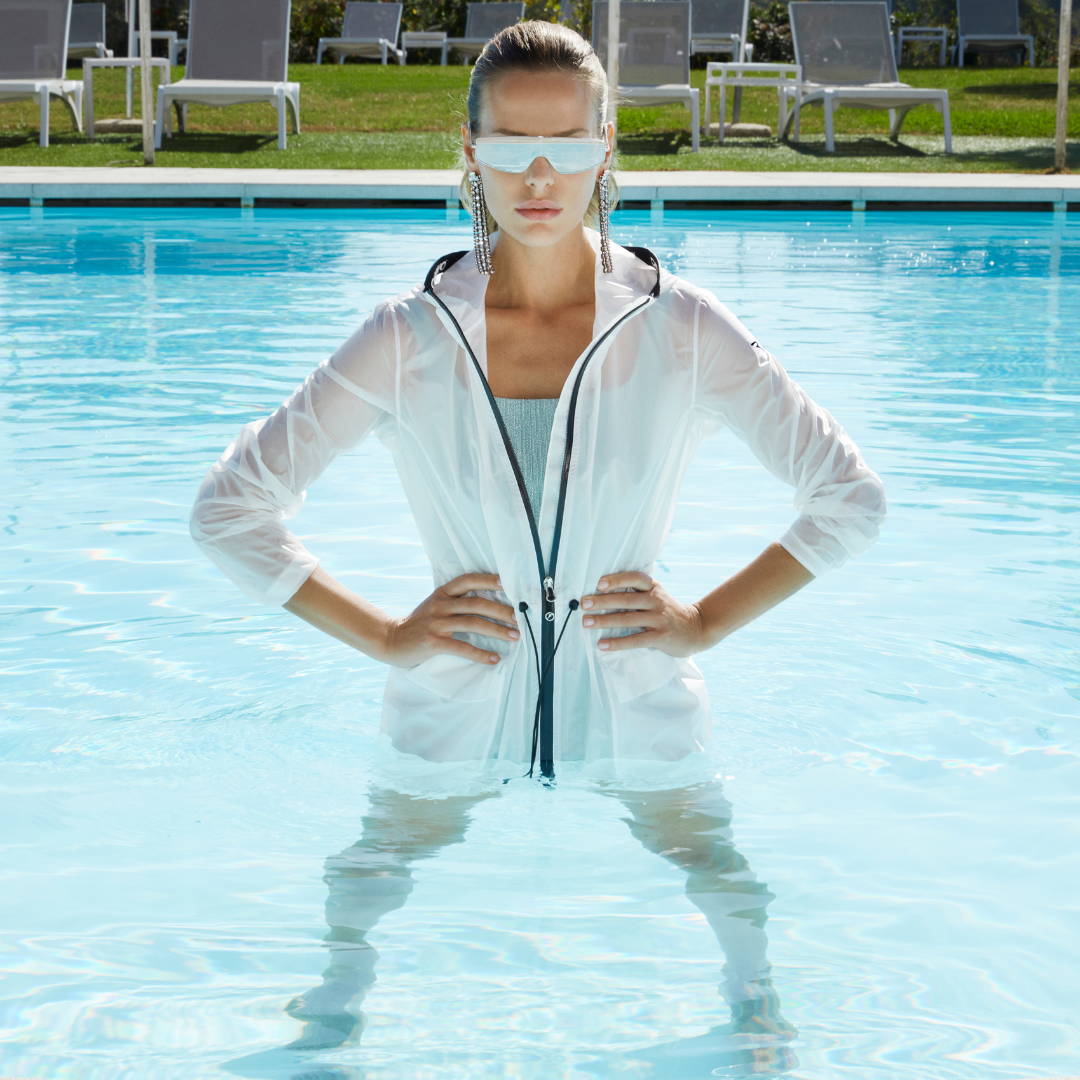 Q: We're a little obsessed with the women's Monday jacket and the mirrored style Martedi for men. What is the fabric, technical features and inspiration behind this fabulous looking piece?
PE: To design this kind of jacket for men and women was a challenge. First we had to create a transparent, ultra-light, 3-layer waterproof fabric. After a number of trials we started designing the style, and plan the construction to include all the technical features such as bonding seams and details. The final outcome is great. The jacket is so versatile for on and off the golf course.
Q: Finally, something people always want to know about a designer is, when you're not wearing Chervò, what fashion designer labels are your favorites?
PE: Since smart classic dress isn't required very much anymore, I basically use my own pieces, but in the event that I have to wear a blazer, I would say that I still prefer Giorgio Armani.
Jacket details:
The Ladies Monday and Men's Martedi jackets are both available in sizes XS - XXL. The fabric is100% Polyamide and contains Aqua Block (water proof) and Laser Cut detailing for ventilation under the arms.
The Monday has cinched toggle waistband accents and Chervò branded stretch ribbon inside the hood for added style & comfort. All ladies accents are done in black.
The Martedi has navy blue cover stitch accents on the front snap pockets with a navy blue seam sealed zipper, and nautical cord zip pulls. It also has the Chervò branded stretch ribbon detail inside the hood.