Time flies when you're having fun. This timeless expression perfectly captures the emotions that come with such a special birthday. We are celebrating 40 years of Chervò, and it feels as if we have just started, with styles that have evolved, yet with the same essence. 40 years that have, day after day, reinforced the concept we founded our brand on: innovating, surprising, perfecting what we do every day, tapping into people's emotions, experimenting, and always looking to the future without ever forgetting our values, tradition, the quality of our products, our employees and all the customers that choose us and make us proud of everything we have done, are doing and will continue to do every single day. This is why, today like 40 years ago, with each garment we produce, we strive to create something that is not only comfortable to wear – making use of increasingly technical and innovative materials – but also excites those who choose it, as well as gives them something to remember, both on the golf course and in everyday life. This is the path we chose: becoming iconic by staying true to ourselves, since, for us, "every moment shapes our identity", and making the most of every single passing moment is the best way to live life each day, while building a future step by step. 40 years of Chervò in three stages.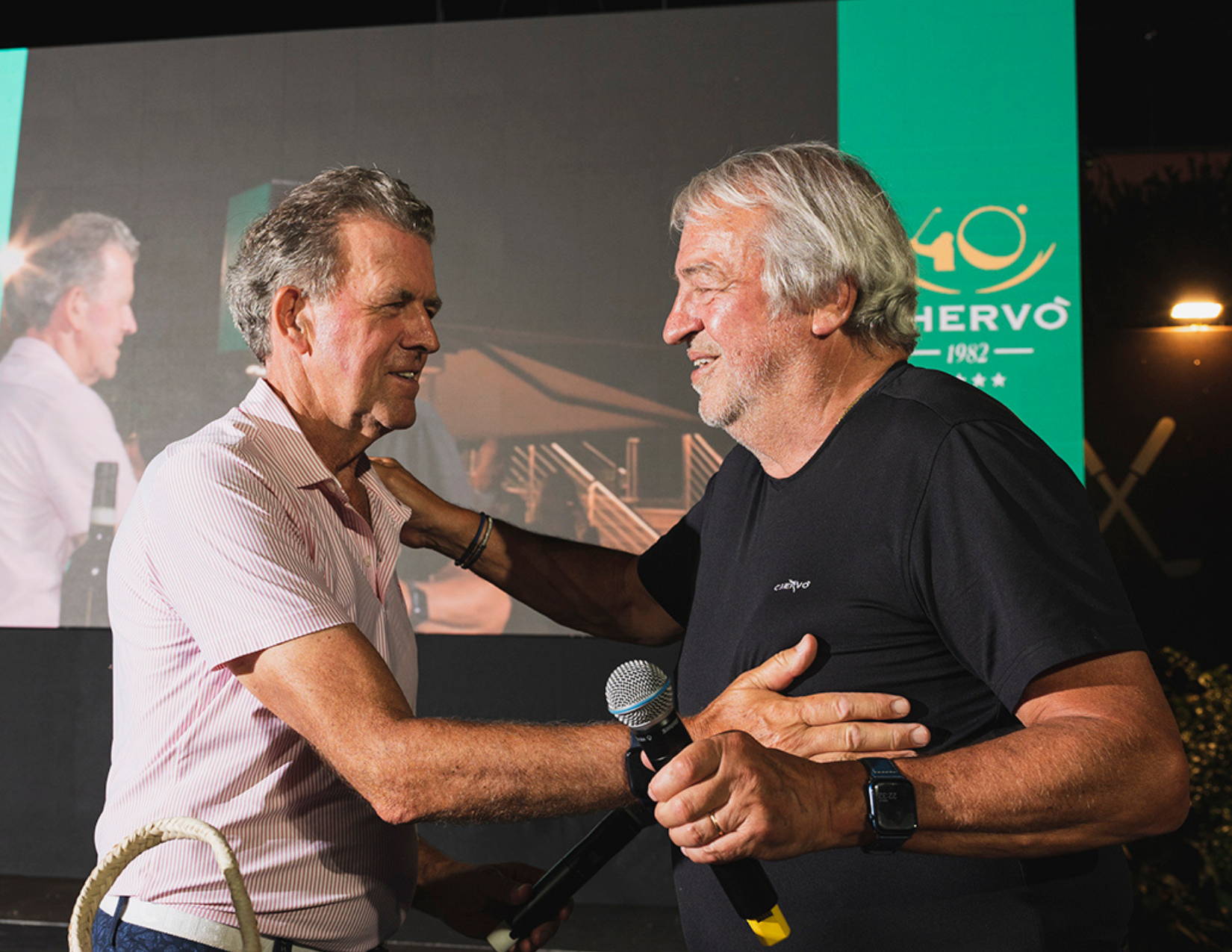 Founders & Owners Peter & Manfred Erlacher
The past 40 years have been the perfect amalgamation of the three fundamentals that shape time and, as such, all of our lives: past, present and future. We'll start with the past, where everything comes from and the base from which we venture towards new and exciting challenges. To make it unique, each of our products is designed with an eye on the future, while staying true to the traditions and precision that have guided us since the very beginning.
Our philosophy is clear: each moment reveals who you are and each memory contributes to your identity, takes you back to your roots, and forms the way you look at things. From the onset, our core idea was to keep upping our game, bringing technology, fashion and cutting-edge developments together in a unique take on golf wear that no one had ever thought of or thought to create. We sought to understand what our loyal customers needed both on the golf course and in everyday life, developing increasingly new technological solutions and never staying content with the results we achieved.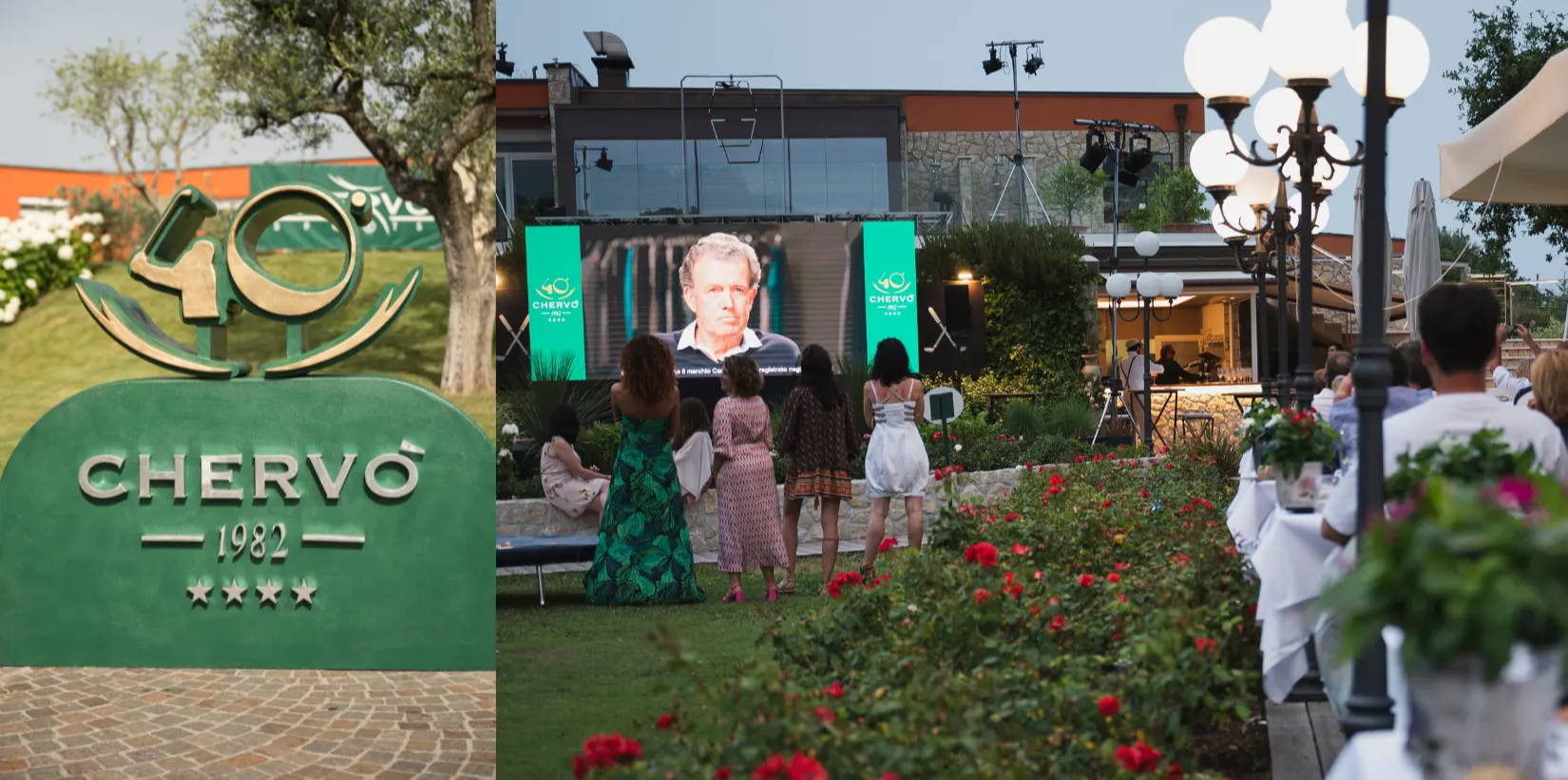 While staying true to our traditions, our values and everything we've built over time, we also remain focused on the present and the challenges we face every day during the various stages involved in creating our garments. These are major moments we need to give proper weight to, weighing up our choices each time without ever forgetting our main goal: to satisfy and excite our customers. Every aspect is vitally important in tapping into the minds and hearts of those who choose us: the raw materials we select, the meticulously managed supply chains, our online store and brick-and-mortar shops, the website, social media and the displays – both physical and virtual – through which we strive to convey our values to those who, each day, choose us and experience emotion with us.
To mark Chervò's 40th birthday, our collections are brimming with the Mediterranean colors, aromas and flavors we know so well and that evoke the Italian roots of our products. For the golf course, we've combined fine craftsmanship, technology and glamorous style, bringing the highest level of Italian style to our retail stores worldwide and through our valued ambassadors. For the new Spring/Summer 2022 collections, which are something of a gift for us and all of you to celebrate Chervò's 40th birthday, we've perfected new textures, motifs and iconic designs, taking inspiration from our Mediterranean roots with breath-taking color blocks, in search of the perfect balance. Last, but certainly not least, is the future. The end point of every journey, the destination of our ideals, and the greatest challenge. Over the past 40 years, each of our products have been designed, nurtured and crafted with an eye on the future at all times, an ever-innovating approach to our ideas and supply chains, the pursuit of new materials and the drive to take on new challenges like our customers do on the golf course.