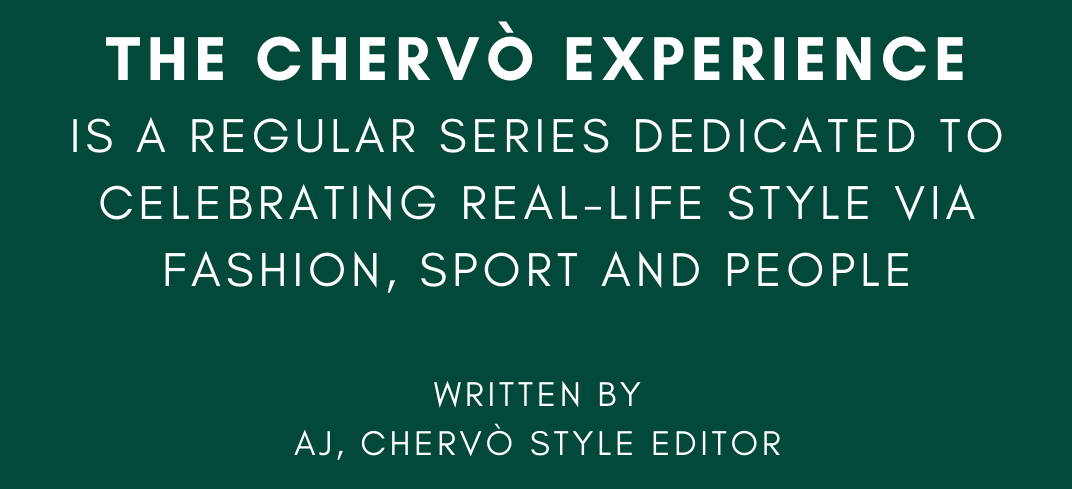 This month: The Arrival of Fall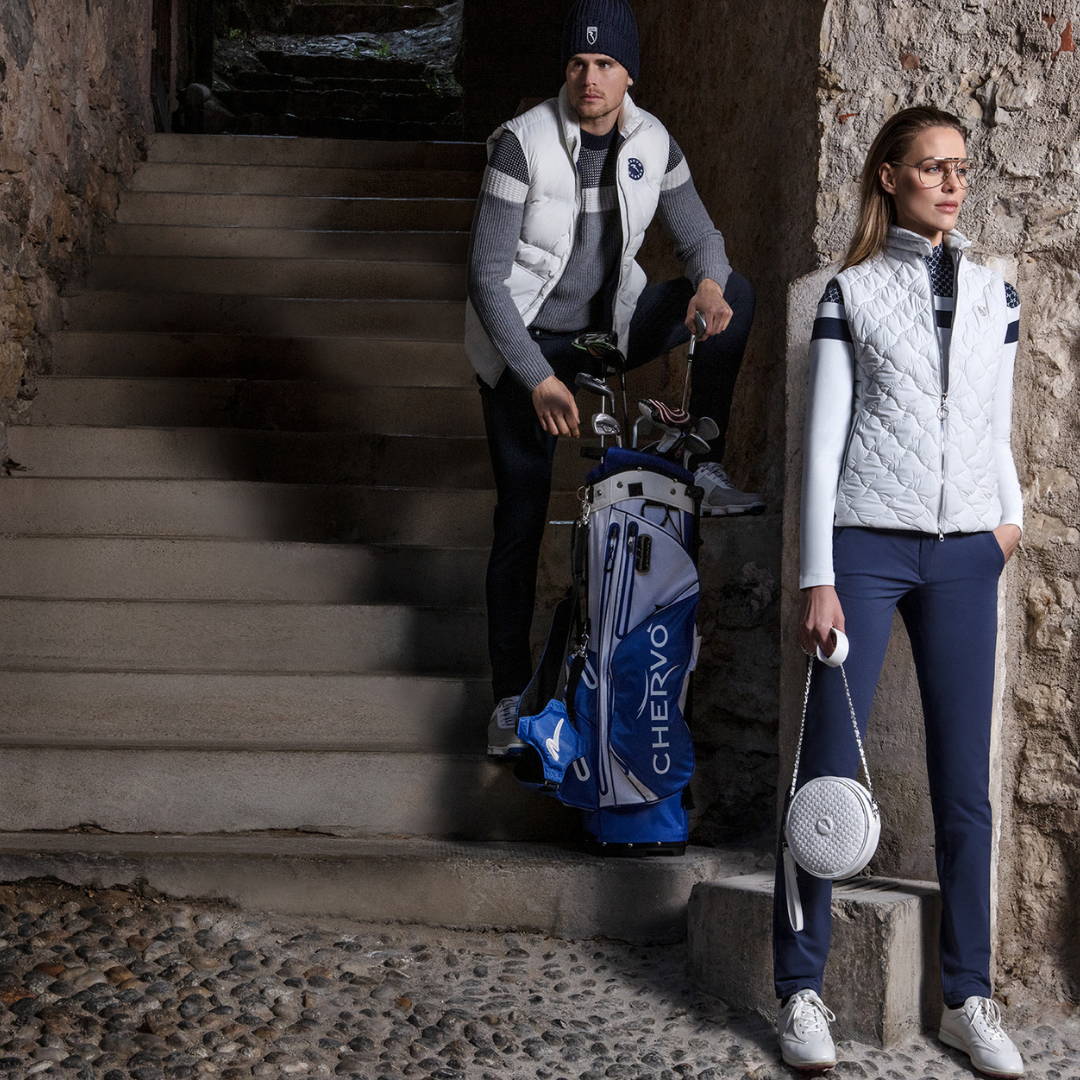 You know the typical clichès that accompany the arrival of fall … sweater weather, fall breeze/autumn leaves, pumpkin kisses/harvest wishes, autumn skies/apple pies, Oh My Gourd! (personal favorite)
Preparing for the change in temperature while looking stylish and chic is Chervò's focus for the new season. The collections combine the latest fabric technology plus sleek designs and nature-inspired colors to make this fall lineup better than ever. Let's take a closer look.
First up, let's talk tech. Chervò is dedicated to developing innovative materials that will enhance the performance of golfers and other athletes. It conducts laboratory and field-based tests to create the best proprietary materials that stand up to any climate. The results are high-tech fabrics and revolutionary yarns with Italian flair and taste, producing garments that have distinctive chic-tech style to wear on and off the course.
The newest in an impressive list of fabric technologies is CH Thermo Light, and as the name implies, it's an ultra thin, super light layer that forms a natural cavity in the structure of the fabric which increases thermal insulation to retain body heat. This ideal composition also provides freedom of movement, high breathability, moisture absorption and anti-static.
There are three style groups that make up the fall collection:
- Active Sport has a theme that is dedicated to action while offering a high degree of style elegance. It's composed of timeless shades of blue mixed with light grey and pops of red. Solid color technical jackets worn with classic turtlenecks and subtle plaid bottoms are sophisticated and sporty. The mix of a navy quilted vest, or solid white jacket with a tonal strip second layer and navy pants is a look that can easily go from course to street. An eye-catching alternative look uses bright red in the top, vest or pants to kick up the aesthetic a notch.
Patterns in this group play with warmth and tridimensional textures - traditional checks have a playful twist in contrast detailing. Linear design in tops give a sporty touch to a casual polo in both men's and women's styles.
- The Mauve group for women is the color of the season and Chervò uses the shade to mix with neutral hues of light grey and beige creating a soft feminine fall to winter theme. It gains a sporty attitude when combined with timeless black allowing the sophisticated look that goes straight out to dinner.
Faux fur is introduced here and when worn with checked pants it's as chic as chic can be. Patterns in this group are clean and refined like the polygonal laminated textures on the high tech nylon jackets or the chevron pattern on knitwear giving the pieces details worthy of fall fashion.
- Mountain Sunset is dedicated to men's pieces and features warm tones such as juniper green, orange and grey. Touches of blue and light grey create a balance between casual and polished in these masculine looks.
Patterns are tonal and soft with bicolor collars that enrich a basic polo, and micro geometric patterns that provide sharp combinations and a sports performance mood that begs to be outside with nature.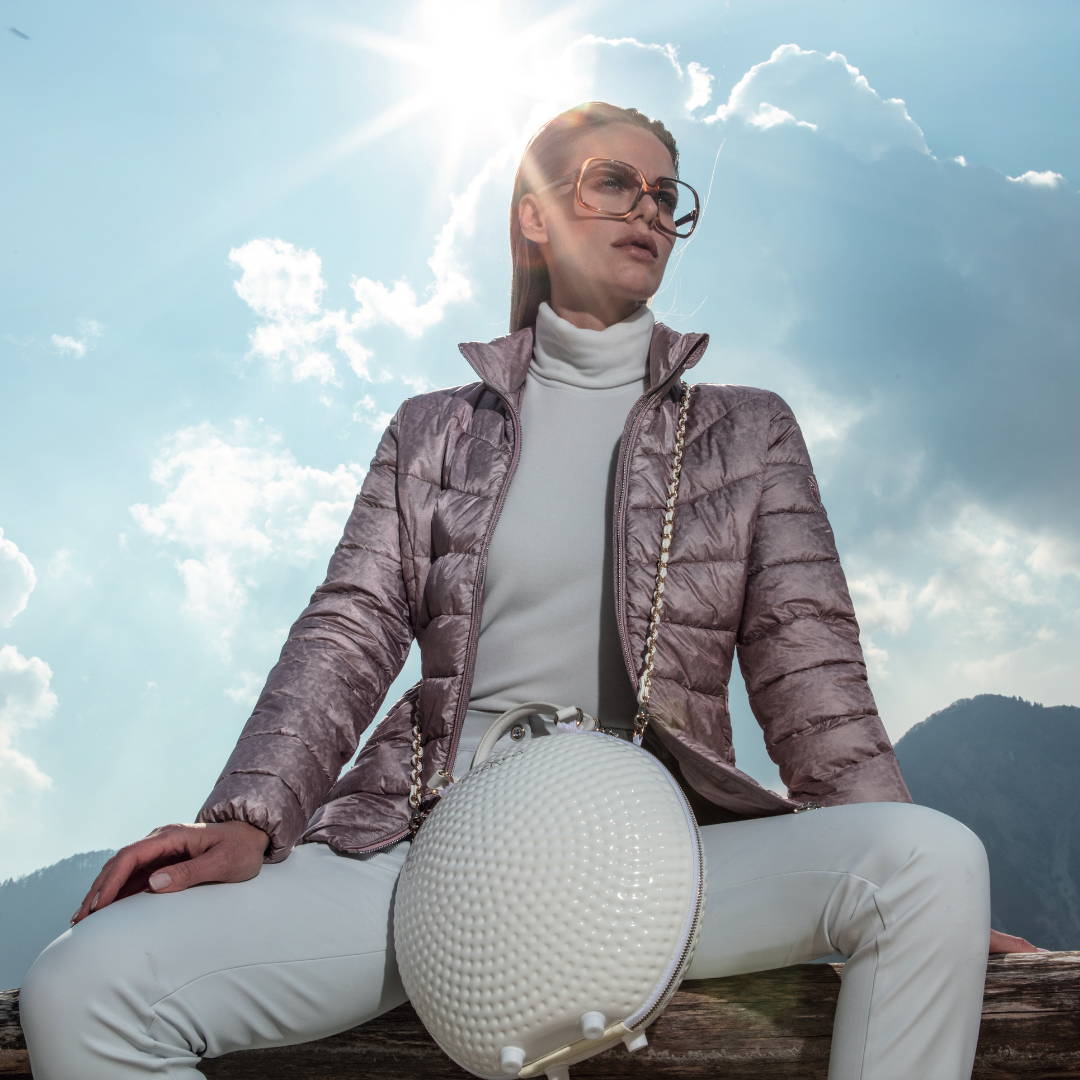 Don't forget the accessory line up for fall - there's are belts, waist clutches, knit hats, arm warmers, travel totes and more that complete the looks to all three of fall's offerings.
Lookbooks are available for buyers and merchandisers, and catalogs for consumers that create visual inspiration how to mix, match and wear products from each group. And while fashion comes to life on these pages via colors, embellished detailing and accessories, the important technical properties that provide the performance qualities of the collections is beautifully illustrated under the 'By Technology' tab located at bottom of home page under Shop on this site.